GETAWAY ROCK FESTIVAL - 2011.07.01


GETAWAY ROCK FESTIVAL - GÄVLE 9/7
Renegade Five on stage 9/7 12:15 @ Monster Stage
More info Getaway Rock Festival FACEBOOK
More info Getaway Rock Festival HOMEPAGE
More info Renegade Five FACEBOOK


GETAWAY ROCK NIGHT - 2011.06.06


GETAWAY ROCK NIGHT - LILJAN, BORLÄNGE 10/6
More info Liljan / Rig HERE
More info Getaway Rock Festival FACEBOOK
More info Getaway Rock Festival HOMEPAGE

GETAWAY ROCK NIGHT - 2011.05.13


GETAWAY ROCK NIGHT - TEMAKROGEN, NYKÖPING 14/5
More info Temakrogen HERE
More info Getaway Rock Festival FACEBOOK
More info Getaway Rock Festival HOMEPAGE

ALIVE ON iTUNES - 2011.05.06


Go and get the brand new single "ALIVE" HERE
GETAWAY ROCK NIGHT - 2011.05.06


GETAWAY ROCK NIGHT - HARRY B JAMES, STOCKHOLM 12/5
More info Harry B James HERE
More info Getaway Rock Festival FACEBOOK
More info Getaway Rock Festival HOMEPAGE

'Alive' Debut - 2011.04.29


Hello Renegade Five Fans! The debut of 'Alive" this morning on Bandit Radio in Stockholm, SE was amazing. The response has been fantastic. This is just the beginning for this awesome song, album, and band!

The commercial release on iTunes and other online sites will be May 5. The official release date for the album, NXT GEN, is scheduled for Aug 17th!! They start their summer tour tonight in Gävle, Sweden. For those of us that can't be there, here's a glimpse of the new release ALIVE!

Share R5 with all of your friends, and be proud to know that you are some of the first to be fans of what will be a worldwide phenomenon!!!

-The US Renegade Five Team

Preview of single 'Alive' on Facebook
GETAWAY ROCK NIGHT - 2011.04.29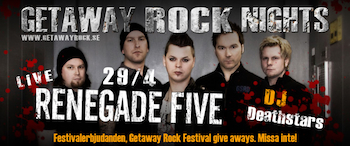 GETAWAY ROCK NIGHT - HEARTBREAK, GÄVLE 29/4
More info Heartbreak HERE
More info Getaway Rock Festival FACEBOOK
More info Getaway Rock Festival HOMEPAGE


ROCK 4 CHARITY - 2010.09.30


Don't miss the chance to see us live and at the same time help children all over the world!
O'learys, Haninge, Stockholm October 2 20:00!

For more info click HERE
NEW WEBSITE!!! - 2010.07.13
NEW WEBSITE, MYSPACE AND FB WILL BE LAUNCHED AUGUST 1! LOOK AT NEW PHOTOS PRELISTEN TO THE NEW SINGLE AND ALOT MORE! STAY TUNED!!!
R5 @ GETAWAY ROCK FESTIVAL - 2010.07.07
R5 @ Bandit All Ages - 2010.03.10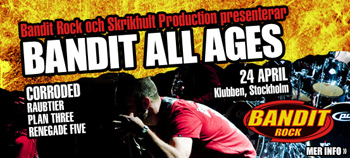 BANDIT ALL AGES - KLUBBEN 24/4
Bandit Rock and Skrikhult Production presents BANDIT ALL AGES. Four bands will perform this evening: RENEGADE FIVE, CORRODED, RAUBTIER and PLAN THREE.
More info HERE
Buy tickets HERE
R5 nominated @ Swedish Grammy Awards!! - 2009.12.09



Renegade Five is nominated for Best Hard Rock at the Swedish Grammy Awards 2010
Please give us your vote by clicking HERE
New Album - 2009.09.05
This fall Renegade Five will be in the studio recording the follow up for the successful debut album "Undergrounded Universe"! Please look out for a new release, Spring 2010!
However if you can´t wait! They will do a short clubtour end of November!

Let´s stay in touch folks!!!

R5 @ SKOGSRÖJET FESTIVAL - 2009.08.27


Don't miss Renegade Five @ Skogsröjet festival, Rejmyre 29/8
Click HERE for more info.

R5 on tour with Rockweekend & Rockklassiker - 2009.03.15


Renegade Five are going on a tour together with Mustasch, Heat, Dia Psalma and Dead By April starting 9/4.
Check out if we're gonna rock your town!!
Click HERE for more info.


R5 @ Sweden Rock Festival - 2009.03.07


We're very pleased to announce that Renegade Five will perform at Sweden Rock Festival 4th of june 2009.
For more info click HERE

Party och skivsignering - 2009.02.24
Hej! Efter mycket förfrågan så har vi beslutat att köra en dunderfest och ett andra releaseparty i Göteborg!!!
Denna gång på Sticky Fingers tillsammans med Bandit 104,8.
Vi siktar på att knäcka den grymma festen vi hade på Glada Ankan i Karlstad senast ;)
Ladda ordentligt så ses vi den 6 mars....!!!
För mer info klicka HÄR





Dagen efter, den 7 mars kl. 14.00 signerar vi skivor
på Media Markt Bäckebol.
För vägbeskrivning klicka HÄR

Undergrounded Universe No 8 at Swedish Album Chart - 2009.02.13
This week Undergrounded Universe hit no.8
at Swedish Album Sales Chart.
Thanks to everyone who supporting us.


Album Release!!! - 2009.02.02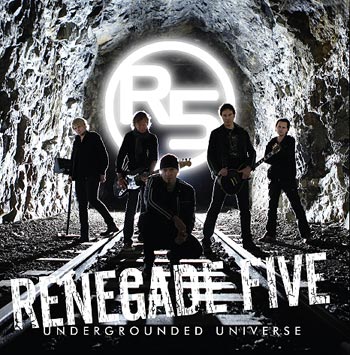 Buy it at CDON.COM GINZA.SE iTUNES

Vote for Save My Soul on P3 Tracks - 2009.01.25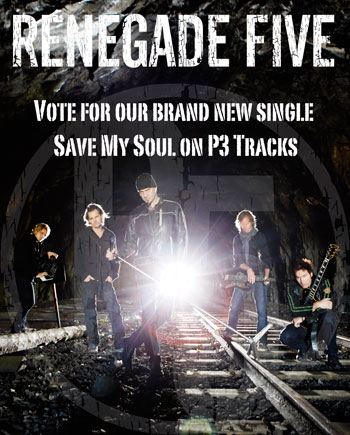 Happy New Year - 2008.12.31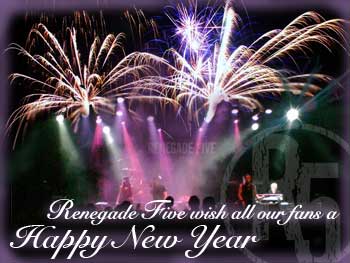 Swedish Metal Awards!!! - 2008.12.11
JOIN THE RENEGADE FIVE TEAM AND VOTE FOR
US AT SWEDISH METAL AWARDS!!!

CAT: NYKOMLING

VOTE HERE





THANKS!!!!!!!!!!

RENEGADE FIVE @ BANDIT ROCK AWARDS - 2008.12.01
Renegade Five is nominated as "Swedish Breakthrough 2008"
at Bandit Rock Awards.
Please, help us by giving us your vote.
Click on the link below - it's very easy and takes just 30 sec...or so.
VOTE ON RENEGADE FIVE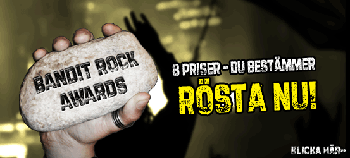 ThanX
Renegade Five

VOTE - 2008.11.07
Vote for Renegade Five to play at 2009 Putte i parken festival.
Just click on this link: PUTTE I PARKEN

ThanX!!
ALBUMRELEASE!!! - 2008.10.29
DON´T MISS OUR DEBUTALBUM!!!

"UNDERGROUNDED UNIVERSE"

RELEASEDATE: FEBRUARY 4
Release Darkest Age!!! - 2008.09.25
Our new single "Darkest Age" will be released on Monday the 29th.

News is that it will be on Itunes all over Europe!!!

Check it out!!!
Single release! - 2008.09.11
"Darkest age" will be released the 29 th of September on all sites for downloads!
New Single!!! - 2008.08.27
Finally! Our new single "Darkest age" is now up and running! Take a listen at

www.myspace.com/renegadefive

R5
German website! - 2008.08.26
Don´t miss our German supporter site!!!


www.renegadefive.de


Cheers webmaster!

Upcoming Single! - 2008.07.29
New single release will be during week 34! We will upload a sample of it right away!


Lyrics & Blog - 2008.07.24
• Lyrics - We've got a lot of requests for our lyrics... and now it's finally up on our site.
• Blog - Here you can read about everything in R5:s life.
Music by Renegade Five in reality show - 2008.05.25
The reality show PLAY US contains music from Renegade Five's forthcoming album. It contains ten episodes and will be broadcast by MTV NORDIC in the following countries:

Finland: Friday 19:00
Norway: Saturday 15:00
Denmark Saturday 21:00
Sweden: Sunday 20:00

For more info: PLAY US and PLAY US BLOG
NEW SINGLE - RUNNING IN YOUR VEINS - 2008.04.17
Check out our brand new single "Running In Your Veins"
It's available as a download at:
CDON & iTunes

Running in your veins - 2008.02.22
Additional release to Swedish rockstations next week!!!

CHECK IT OUT!
Love will remain at #16! - 2008.02.16
Second week on the sales chart! This time at No. 16!!!!

Thanks everyone:)
Love will remain at #25! - 2008.02.09
Our brand new single entered the Swedish sales chart at No.25. Let's hope it will climb!!!
Join our groups!!! - 2008.02.03
Plesae join our groups on FACEBOOK and MYSPACE

www.myspace.com/renegadefive
Love will remain available on February 4th - 2008.01.30
Our new single "Love will remain" will be avalable for download from 4th of February!!
Please support our band and help us climb the Swedish charts! This service works within EU!!
Track P3 26/1!!! - 2008.01.26
Hej alla!!!

Idag testas vår nya singel "Love will remain" på tracks!!!
Gå gärna in och stötta oss med er röst :)

P3 Tracks

Tusen tack!!! R5
Love Will Remain - 2008.01.23
Our latest single is "Love will remain" The respons has been fantastic so far!
It will be for sale from the 25th of January.
We are going to record a video in February in Stockholm.
Shadows - 2008.01.23
Don't miss our debut single "Shadows" It went very well on Swedish radio and are available in stores!
Tour - 2008.01.23
Missa inte vår klubbturné!!! Vi startar i Nässjö Lördagen den 26:e. Vi kommer uppdatera sidan med nya platser och nya datum så fort det går!! VI kommer hålla på till mitten av Juni då festivaler tar över!!!
Website up and running - 2008.01.16
Finally the Renegade Five official website is on the web. Hope you enjoy it and put your name in the guestbook.